Jane Davidson
Director of the Wales Institute for Sustainability at Trinity St David's, University of Wales, where she intends to introduce sustainability content into every student's experience from 2013. Was the Labour Assembly Member for Pontypridd and the Minister for Environment, Sustainability and Housing in the Welsh Assembly Government (2007-2011). In this role she was responsible for the Welsh Government agreeing to make sustainable development its central organising principle, and introducing the One Planet Wales policy into the planning system. Prior to that she was Minister for Education and Lifelong Learning where she introduced a new Foundation Phase for 3-7 year olds, the Welsh Baccalaureate and Education for Sustainable Development and Global Citizenship (ESDGC) into the Welsh curriculum. Previously the Welsh Vice-President of the Ramblers' Association. She has spent much of her life working with young people in the voluntary sector, both as Development Officer for the Youth Hostel Association in Wales (1984–87) and as a Youth and Community Worker (1987–90). Davidson was also a Researcher to Rhodri Morgan MP (1991–96); and Welsh Co-ordinator, National Local Government Forum Against Poverty (1994–96).
David Thorpe
David is a valued consultant, workshop leader, inspirational speaker and author in the fields of carbon-free energy and sustainable development. He is a strategic thinker who uses his detailed knowledge of environmental technologies, science and initiatives at all levels, from individuals to cities, in order to show organisations and businesses how they can benefit from positive change.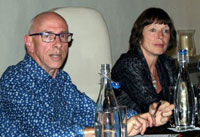 David (seen right on a panel with Jane Davidson) is Special Consultant on Sustainable Cities Collective (the foremost independent website in the world for urban leaders) and was for 13 years news editor of Energy and Environmental Management magazine. He is the author of several books and hundreds of articles on related subjects. The books include:
Passive Solar Architecture Reference Book (due in 2015)
Solar Energy Reference Book (due in 2015)
Paul Taylor
Paul is passionate about the environment and how we can all be much more resource efficient. He advocates ways whereby we bring about change through the day-to-day choices that we make and explains why sustainability needs to be at the heart of how we live and how we do business. Sustainability is the constant theme that underpins why Paul works with public sector and community sector organisations. Through his experience, at Director level in the public, private and community sectors, he understands the need to collaborate and partner if we are to achieve the common goals of sustainability and community resilience and wellbeing. He specialises in building partnerships and helping initiate innovative sustainability projects. With a track record of championing sustainability and greater equality since 1990 Paul enjoys working with pioneering organisations on projects, in the social enterprise sector, with business and local government. Paul is currently working with communities in Wales and the Marches that are looking to develop one planet community owned sustainable and affordable housing solutions. Paul is currently:
Board Member of WM Homes (Housing Association)
Independent Advisor to National Community Land Trust Network
Community Housing Advising to the Charities Aid Foundation – Social Investment Fund
Independent Advisor Community Land Advisor Service Cymru
Board Member Cwm Harry Community Land Trust
Board Member Homes Presteigne Housing Cooperative
James Shorten
James is author of the Practice Guidance for One Planet Development. James is a geographer and qualified planner with over 20 years of experience of a wide range of rural development work. He is the director of Geo and C4G Rural Sustainability Experts consultancies which support sustainability of rural areas. He is passionate about the need for metrics to underpin all thinking about sustainability.